Faster connection
Plane and Ferry
Connections
Plane and Ferry
Tourist presence





Nightlife under 30





Nightlife over 30





Points of interest
Marine park
Activity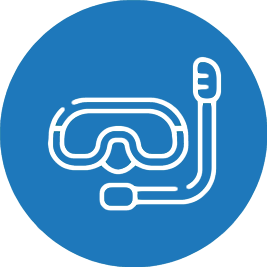 Gioura is located close to Alonissos and is part of the Northern Sporades archipelago. Alonissos, one of the four biggest islands, has its own archipelago as it is the main island where the national marine park is located, this program was created in 1992 to protect the wild animals and plants that live on the island and off its coasts. There are 5 main smaller islands: Piperi, Kyra Panagia, Skantzoura, Peristera and Gioura.
If you want to visit Gioura you will have to necessarily stay in Alonissos as it is the closest inhabited island of the Sporades. From here you can take part in one of the many boat trips around the island to visit the protected marine reservoir. On Patititri beach you can even find agencies that organize day-long trips to visit all the 22 islands spread around Alonissos.
Why choose Gioura?
Gioura can only be visited with a daily trip, so if you want to visit it you will have to consider it as an extra trip to the islands around Alonissos. The island measures about 11 square kilometers and is located 16 miles from Alonissos in the A area of the marine park.
Only professional fishing boats can anchor directly on the island while if you have a rented boat you will have to anchor at least 400 meters from the island's coast. The only people that inhabit the island are the coast guards that take care of the island's natural wildlife like kri kri goats, a wild brown goat with some very unique thorns and stripes, that unfortunately has become almost extinct.
If you are lucky enough the coast guards will even take you to visit the Cyclops cave, the cave that is said to be the place where ulysses blinded the cyclop named Polyphemus during his journey back to Ithaca in the Odyssey. The cave can be reached by following a path that leads to the island's highest point and once inside it, you will even find old drawings that were done by some of the many people that lived on this island over the course of history.