Faster connection
Plane and Ferry
Connections
Plane and Ferry
Tourist presence





Nightlife under 30





Nightlife over 30





Points of interest
Trypia Spilia caves
Activity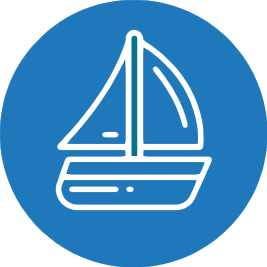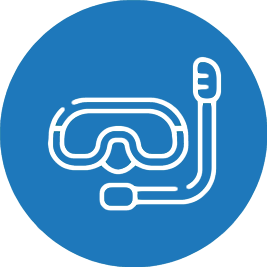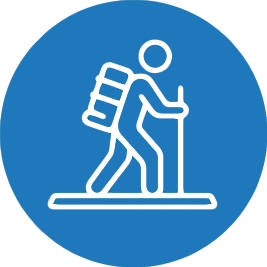 Holiday type
Romantic trip, Sea and Relax
This small island of the Northeast Aegean islands has been known for years for being the place were exiled politicians used to be sent. Nowadays we are pretty sure that it wouldn't be so bad to be taken there and staying far away from the stressful and tiring everyday life for a bit.
This island was struck by tragedy in 1968 when an earthquake with a force of 7.2 on the Richter scale destroyed many historical monuments and buildings besides leaving quite a few victims. Since then the island has completely recovered and gained its original beauty back.
Agios Efstratios has daily connections for the island of Limnos, so if you are planning a trip of the different islands of the Northeast Aegean archipelago remember that you are going to have to go through it, for this reason we suggest staying there and discovering Limnos' beauties. Visiting Agios Efstratios only takes about 2 days but even seeing it during a daily trip might be enough.
Why choose Agios Efstratios?
Agios Efstratios can be visited during a daily trip or even in a few hours. As previously said it is a very small island and almost completely uninhabited. The biggest inhabited center located in the islands center is named after the island and counts less than 300 people.
The only historical remains of the island that survived the earthquake are those of Agios Vasilios, a church built in the 1700s. The small center of Ai Stratis known as "the village" is very lively. The few people that inhabit the island are very close to each other and every moment is good to have a chat or a quick meal with them.
Recently a museum on Democracy has been built on the island, as a memorial to the more than 6000 people that were exiled here over the centuries.
But there is also another reason why Agios Efstratios is famous worldwide. It has in fact been chosen by the Greek government for becoming the first island with zero CO2 emission, obtaining all their energy from sustainable and renewable energies like wind, sun and water. The island hasn't completely reached its objective but it should be able to achieve it within the next few years.
This island is mostly visitable on foot but if you don't feel like walking much there is also a wonderful beach covered in dark sand called Agios Efstratios beach and it has very warm waters. The rest of the beaches can be reached on foot as previously said or by boat. For example in the southern coast you will find Agios Dimitros and Ftelio beach, two beautiful creeks with crystal clear waters that have a bright blue colour. Nearby you will also find the caves of Trypia Spilia which are famous for being inhabited by seals.
Alonitsi beach
Alonitsi beach is located in the north-eastern coast and during the summer it offers a wonderful view of the wild landscape that surrounds it. During the rest of the year it is often visited by professional surfers thanks to the presence of strong winds ant tall waves.
The activities to choose from in Agios Efstratios are all tied in with the island's nature and landscape. The island has a volcanic origin, it measures about 43 square kilometers and the highest hill is about 300 meters high. Agios Efstratios is perfect for trekking and there are many paths to explore while taking long walks surrounded by lush nature. The island can be visited on foot.
Boat trip around Agios Efstratios
Many beaches can be reached on foot and by boat and in the village's southern point you will even find some marine caves called Trypia Spilia. The inside of the island have mas oak woods and many wild animals. If you choose to take part in a boat trip you will have the chance to see the island's beautiful coast and creeks spending some relaxing time.
Moving around Agios Efstratios? Since the island is trying to become the first Greek island with 0 CO2 emissions you won't find any cars or car rentals around. You can easily move around on foot and if you are planning to reach some of the most remote beaches you can take a taxi boat. This is the perfect island if you are planning to relax without having to worry about the car and if you care about eco-tourism.
How to reach Agios Efstratios? Agios Efstratios is a small island without an airport. It can only be reached by sea from the ports of Kavala, Lemnos and Lavrio (Athens). The last option is certainly the quickest. In fact as soon as you arrive in Athens' airport you will have the chance to reach the port of Lavrio (make sure you go to Lavrio and not Piraeus) before taking a ferry that in about 7 h will get you to Agios Efstratios. During high season the price for a ferry ticket is around 120,00 € and 130,00 €.
Reaching Agios Efstratios from Lemnos
Lemnos is an island with an airport that receives national flights from Athens. For this reason you will have to first land in Athens before taking a second flight for Lemnos. Once arrived you can reach the port by taking a taxi or bus that connects Moudros with Myrina.
Check the timetables beforehand as there aren't many busses in Lemnos. From there you can take the ferry that leaves for Agios Efstratios on a daily basis (the journey lasts about two hours and a half while the ferry company is called Aelois line). During the summer there is also a second ferry (called Hellenic Seaway) that will take you from Kavala to Lavrio (Athens) in about one hour and twenty minutes. The price for this ferry during high season is about 30,00-40,00 €.
Reaching Agios Efstratios from Thessaloniki
Another option could be to land in Thessaloniki airport (as flights for Thessaloniki are cheaper) and from there:
•Getting out of the airport and taking one of the following busses (78, 78A and 78N) for 2 € in order to reach the Macedonia Intercity Bus Station in Thessaloniki's city.
•From here take the bus for Kavala for about 16€
•The bus will take you to Kavala's port from where you will take the ferry for Agios Efstratios (the ferry company is called Hellenic Seaway and the ferries run about 4 times a week). The journey lasts about 6h 20m with a price that ranges from 130,00 € to 160,00 € during high season.
There are very few places where to stay in Schinoussa, there aren't any hotels since the island is so small and tourists have started visiting it only in the last few years. Here you can choose between renting an apartment, a studios, a B&B or a beautiful villa with a view of the Aegean sea.
Where to stay in Schinoussa
In Schinoussa there aren't any hotels. Here most of the structures are managed directly by the local families that will rent you a studios, an apartment or a villa. Most of the structures are located near the island's Chora (which is also the island's main village) but there are also quite a few in the island's center near some of the few beaches that can be found here.