Faster connection
Plane and Ferry
Connections
Plane and Ferry
Tourist presence





Nightlife under 30





Nightlife over 30





Points of interest
Beaches and coast of the island
Activity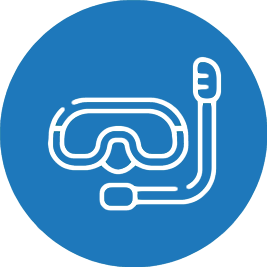 Holiday type
Sea and Relax
Pserimos has a surface of 15 km2 with about 150 people living on it, it is the ideal vacation for someone looking for absolute peace. Here there aren't many tourists and the land is wild, there aren't any roads, just beautiful landscapes, rocks and the sea. All of the coast is ideal for swimming except from Vathy bay.
An old settlement that archeologists refer to as Perraiotan. In the western part of the island there is a small island called Plati, part of which forms a separate island called Nekrothiki.
There aren't any ferries to reach Pserimos. If you wish to visit it you'll have to reach one of the two nearby islands of Kalymnos and Kos and from there rent a boat, another option is to get there with a gulet that organises a daily trip, you'll just need to ask around and reach a deal with one of the captains. 
Why choose Pserimos?
Pserimos is the classic quiet island with no car noise. The only cars you will see around are those of the island's inhabitants that use them to carry and move heavy and useful stuff necessary for restaurants and houses. The barren land of the island doesn't allow a lot of vegetation to grow except from some huge olive trees that people have been growing for many years. 
If you decide to visit Pserimos you will spend a lot of time surrounded by nature, you will see goats and birds while walking around this magic island. The only inhabited village is Aulakia (a.k.a. Avlakia) where you will find beaches as white as the local houses. It hasn't got a real port and the ships and boats all stop directly on the beach.
During summer the beach is full of gulets and you will find taverns, bars and a places where to eat. If you love nature this is the perfect place for you!
This island is very tiny and there aren't many ways to get around it. There simply aren't many roads unfortunately (for this reason a lot of people decide to visit Pserimos for a day trip). The fact of not having many roads makes it also very hard to reach the different beaches on the island. A solution may be to rent a boat and explore the island's coast.
Aulakia beach
This is the only equipped beach of the island, and here, like in the other beaches of the island, you will find a fine white sand that make them look even nicer than you would imagine
Vathy beach
Vathy like many other beaches on Pserimos is completely unequipped. It is completely covered in pebbles and it is easy to reach as it is one of the few beaches with a road that leads directly to the beach. Along the island's coast you can also find some completely deserted beaches like Marathona and Grafiothissa that unfortunately aren't equipped at all and that can be reached on foot or with a boat.
Remember to bring some water and cover with you if you are going to visit one of these beaches as there aren't any places where to buy food or water. Most of the tourist that come to these beaches visit the island with daily trips from the nearby islands of Kalymnos and Kos.
On Pserimos the activities to choose from are limited by the island's size and by the fact that there aren't many monuments. The only trace of buildings and inhabited centers of the island are the remains of old walls, ceramics and hellenic art pieces. The only church on the island is dedicated to St. Virgin Mary, it has white and blue colours and a very tall steeple. The church is located near the center of Avlakia.
Birdwatching in solitary creeks and hidden churches
Besides relaxing on the hidden beaches, going for long walks and enjoying the traditional Greek lifestyle and food you can also go towards the island's center and do some bird watching. If you like birdwatching you can take a 35 minute walk from the port to Panagia Grafiotisa church. For the rest forget about loudness and chaos when visiting Pserimos.
Between eleven in the morning and four in the afternoon, when the small boats packed with tourists will arrive you will almost regret the arrivals for how peaceful the place is.
How to move around Pserimos? Get ready for some long walks as you will have to move around on foot! From the main center of Aulakia or Avlakia start some of the barren paths that will take you directly to the island's creeks. Get ready because the walk will last at least half an hour before you reach one of the creeks.
If you decide to visit these remember to bring some water and a sun umbrella with you! But you can also arrange something with the local people. For example: if you can find someone (that has time and is willing to) happy to come and get you and give you a lift home. The few local inhabitants have off-road vehicles used for moving around the most barren paths of the island while there are specific vehicles for tourists.
There aren't regular connections and you will have to inform yourself before leaving when planning to visit Pserimos. During the summer there are daily connections between the port of Pothia in Kalymnos and the port of Mastichari in Kos that will get you to Pserimos in just 3 minutes. There is also a ferry that leaves on a daily basis from Kalymnos that reach the port of Avlakia. Another alternative could be to take a taxi boat that will take you from one of the nearby islands to reach Pserimos.
In Pserimos there are only a bunchful of accommodations to choose from. In Aulakia you can rent a room from one of the tavern owners and some local people. It is adviced to bbok in advance if possible as there aren't many rooms and you may not find an accommodation.
Where to stay in Pserimos
Un Pserimos you will only find apartments, studios and some rooms that are renteìd directly by the local people. The island isn't well known and almost all the tourists that visit it only spend a day there and usually visit it during a boat trip. Even if it isn't very popular it is a wonderful island where to spend some relaxing time surrounded by the authentic Greek atmosphere.